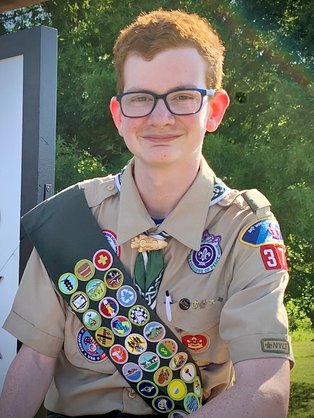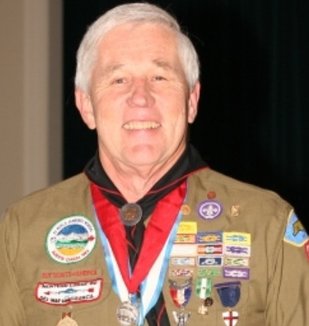 ..... making todays Scouts....tomorrow's Leaders
Scoutmaster Mike Bernhardt is a 64 year veteran of the BSA with 38 years of experience as a Scoutmaster. Mike was the Scoutmaster of Troop 50 in Wilmington, DE for 22 years. After retiring and moving to NC, he founded Troop 377 in 2006.
Mr. Bernhardt's accomplishments and honors include Eagle Scout, Vigil Honor Member of the Order of the Arrow, recipient of the District Award of Merit and the Council Silver Beaver. He has also been awarded the Lutheran Church Lamb Award and the National Eagle Scout Association "Outstanding Eagle Scout Award". He has been chosen as one of the 75 TOP Scoutmasters and is included in the 50 TOP Cubmasters in the United States.
Mr. Bernhardt has attended over 14 National Jamborees and 4 World Jamborees as either a Scoutmaster or a Staff Member. In his most recent assignment (2019) he was chosen to be one of five Scoutmasters from Southern Region Area 5 to lead the contingent to the 24th World Jamboree. Mr. Bernhardt has also lead contingents to ALL of the BSA High Adventure Bases along with Troop 377 for Kayaking, Canoeing, and numerous Backpacking trips.
Senior Patrol Caleb Mulholland was elected to his position June 2021. He has been with Troop 377 since 2016 starting out as a Webelo 2. Caleb has held many positions in the Troop to include Patrol Leader, Troop Guide, Game Master, and Instructor. Caleb is currently a Life Scout and has been approved to start his Eagle Project for the Town Of Mooresville. He has attended the 2019 World Scout Jamboree and brought back many stories and teachings. Caleb was also the elected into the "Order of the Arrow" in 2019....and has served as the Order Of the Arrow Chief from 2020/21. He is currently the Ceremony Team Chairman. Caleb's favorite part of Scouts is to try new activities and to lead and encourage the Scouts to do the same. Caleb is pursuing a career with the U.S. Air Force and wanting to be part of the U.S. Space Force Cyber Security Team.
NOT JUST YOUR ORDINARY SCOUT TROOP
Send Us a Message:
bernhardtmike@yahoo.com
Scoutmaster Mike Bernhardt
Join us today ! Call (704) 252-2850
Visit Us:
Weekly Meetings Monday @ 7 pm
Senior Patrol Leader
Caleb Mulholland